Prediction: Super Bowl 52 Prices Will Soar If The Eagles Make It
January 18, 2018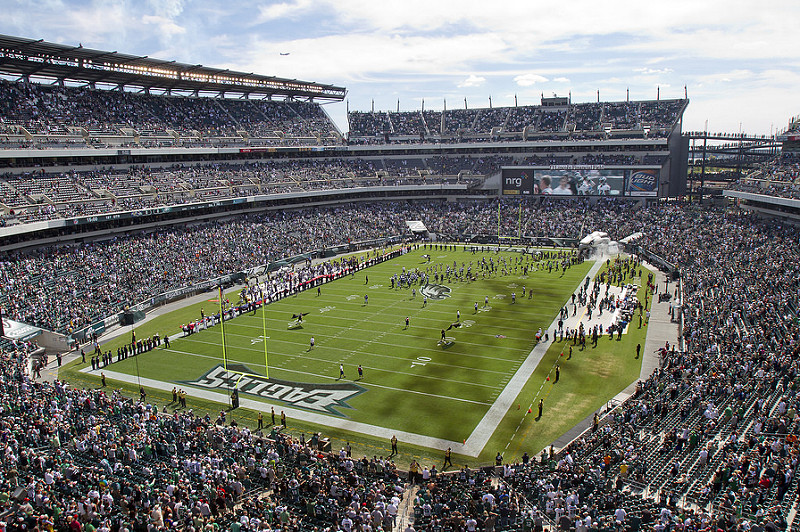 Lincoln Financial Field – StadiumsofFootball.com
Prediction: Super Bowl 52 Prices Will Soar If The Eagles Make It
One Concierge conducted an ad hoc poll of nationwide ticket brokers regarding the impact of overall Super Bowl ticket and hospitality prices if the Vikings, Eagles, Patriots or Jaguars make it to the Super Bowl.  In our last piece, we learned that if the Vikings make it to the Super Bowl, they would fetch a 30-35% premium. Travel and hospitality, however, would be negatively impacted. This leads us to the Philadelphia Eagles, who ironically faced the New England Patriots in the Super Bowl back in 2005.  Regardless of who they face, Philadelphia fans will be a boon for Super Bowl 52 hospitality providers.  Here is why:
A Rabid Fan Base
Eagles fans are known for their extremes. Rumor has it that the fan base booed Santa Claus and cheered Michael Irvin's career ending injury at the Vet.  The film Silver Linings Playbook sums up the Eagles' fan experience succinctly.   If the Eagles earn a spot in the Super Bowl, our ad hoc panel says that Eagles fans will descend on Minnesota en masse with or without tickets.  Some predict this will drive accommodation prices up by 30% or more.
Strong Road Equity
According the 2017 NFL Fan Base and Brand Rankings, the Eagles rank second (Dallas is first) in Road Equity. Road Equity measures how well a team draws on the road.  This strong road equity is why the Eagles rank 3rd overall in Fan Base and Brand Rankings.  While Eagles average ticket prices are only 6.9% above league average, the last three seasons have been lackluster and we see fans driving ticket prices up by 20-25%.
The Rocky Effect
The City of Brotherly Love wholeheartedly salutes the underdog, especially when it is their team. Showing up in Minnesota and braving frigid temperatures to witness a historical upset will be the ultimate display of loyalty to Gang Green.   The Rocky Effect, coined here first, will result in sellouts for all events and festivities leading up to the game.  In fact, the Rocky Effect may be so powerful, it may even become the theme of the Super Bowl if the Eagles make it.  We believe that The Rocky Effect alone carries a 15% premium.
If the Eagles do make it to the Super Bowl, the fan base will steal the show and make the experience well worth attending. Unfortunately for Eagle fans, it will also become a tale of "what if" (i.e. what if Carson Wentz was healthy) because Nick Foles is not going to beat a Bill Belichick led defense.  Speaking of Belichick, we will be analyzing the Patriot effect in our next piece.
Feel free to contact us at One Concierge to avoid the last-minute hotel and ticket stampede. In addition, we can guide you on the best hospitality options, festivities and events during the week of the big game.